iPostal1 Makes More Friends at 2019 Annual PostNet Thrive Event
June 20, 2019
For Immediate Release
Montebello, NY - PostNet and iPostal1 have a great relationship. PostNet has over 200 business center locations across the U.S. and Canada, offering printing and mail services. iPostal1 is the PostNet Preferred Vendor for Digital Mailbox services with 2,750 locations that include more than 100 PostNet centers.
People even have the option of signing up for iPostal1 digital mailbox service at a PostNet center directly from the PostNet website.
We were excited to attend the 2019 annual Thrive event for PostNet franchisees this month, who get together to learn, see colleagues, and have a good time. It's also an opportunity to meet with vendors and stay current with the latest industry products and services.
Getting to Know Our PostNet Partners
Speaking with our PostNet partners face-to-face is a great way to get to know them, understand their business needs, and gain insight on how we can work together to better serve customers who rely on iPostal1 and PostNet centers for virtual mailing addresses for their business or personal use.
The day is capped off with a themed party where franchisees and vendors can let down their hair and have some fun. This year's theme was "The Wild West," which explains why our iPostal1 Customer Service rep, John, was dressed in his best cowboy outfit. We spun the wheel and winners received gift certificates for the App Store or Google Play.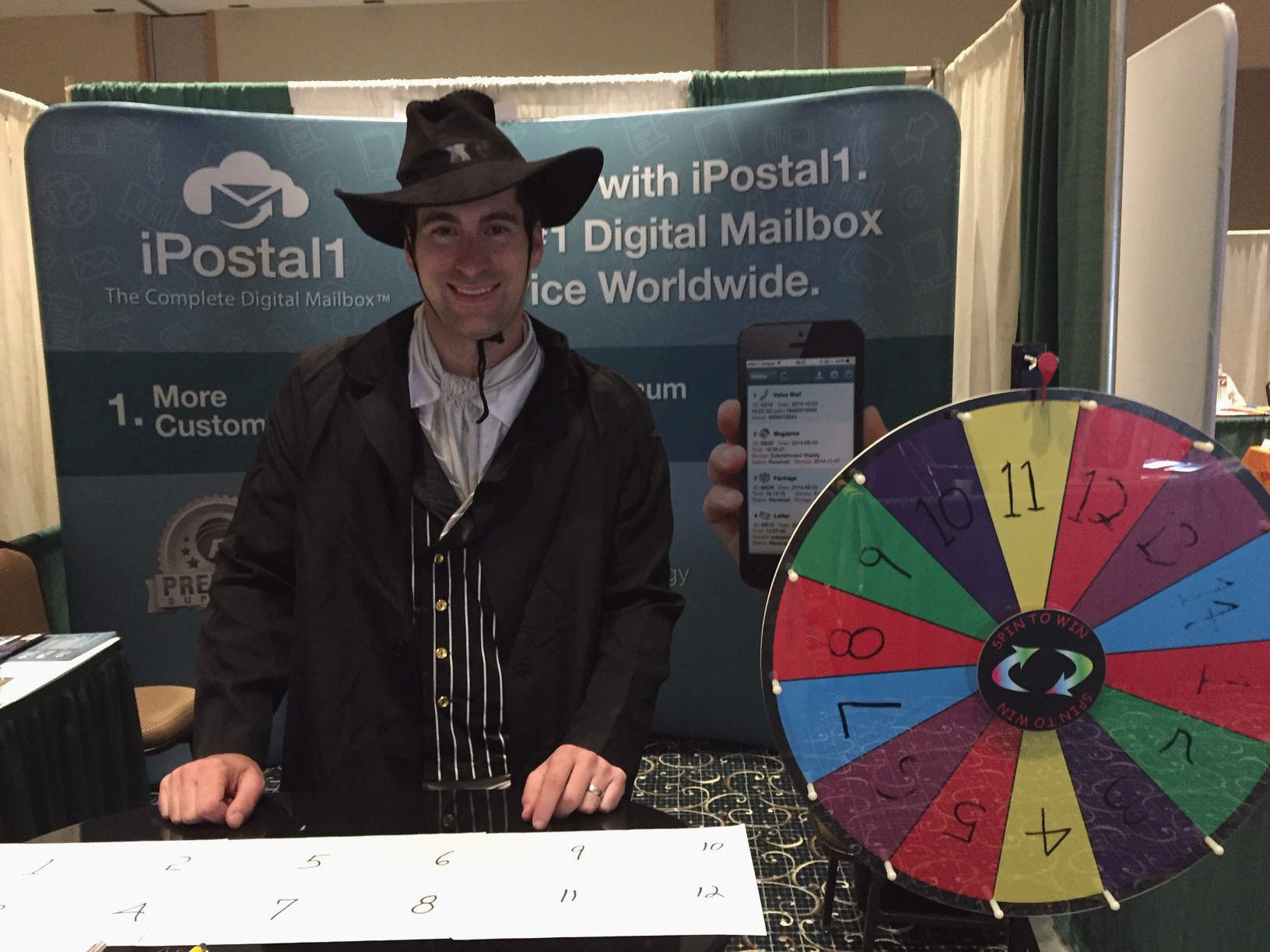 Building and strengthening business relationships with our iPostal1 partner locations is the key to providing a better customer experience. Both PostNet and iPostal1 are dedicated to excellence, which makes for a great partnership.
About iPostal1
iPostal1 is the leader in digital mailbox software as a service and mailroom management software. With over 2,750 virtual mailbox locations, iPostal1 is the largest digital mailbox service provider network worldwide. iPostal1 offers proven, proprietary technology that enables any mail center or business center to offer a mailbox address and mail services to customers who live anywhere.
iPostal1 marketing programs attract customers who sign up online for the virtual address or virtual office of their choice and then manage their postal mail and packages with our smartphone app or via tablet or computer. iPostal1 is the Premium Supplier of digital mailbox services for Retail Shipping Associates, the largest shipping store trade association with 7,000 member mailbox stores.
About USZoom
USZoom, LLC, the parent company to iPostal1 with home offices in Montebello, NY, has been developing digital mailbox software since 2007. USZoom also provides digital mailbox technology to business centers, colleges, and corporations.
To learn more about iPostal1 services, visit ipostal1.com.
iPostal1 Digital Mailbox Plans
Virtual Mailing Address

With Digital Mailbox for me or my family. Starting at $9.99/month.

Get a real physical street address
View and manage mail and packages remotely
Stop mail and package theft
Protect your privacy

Virtual Business Address

With Digital Mailbox for my business.

Includes everything in Virtual Mailing Address plus:

Use it to register your business
Upgrade your business image
Optional office building address

Virtual Office

With Digital Mailbox plus phone and fax. Starting at $39.99/month.

Includes everything in Virtual Business Address plus:

Local or toll-free phone and fax
Call forwarding and voicemail
* Plan pricing varies by "Standard", "Select", "Premium", or "Prestige" mailbox locations.
iPostal1 Digital Mailbox Locations
iPostal1 mailbox locations are professionally-staffed and secure. We can receive your mail and packages and then forward, scan, recycle, shred or let you pick them up. Access your digital mailbox using our app or website.
Choose from our network of over 2,750 locations or view only office buildings and workspaces or discounted international forwarding locations to save up to 80% on international shipping from the U.S.
List your Shipping Store, Workspace or Mail Center address on iPostal1
Learn More