iPostal1 Attends Annex Brands Convention 2022
It's Great to Get Back on the Road Again
April 25, 2022
For Immediate Release
Montebello, NY - After a hiatus of roughly two years, iPostal1 hit the road again to meet franchisees from Postal Annex, Pak Mail, AIM and Parcel Plus mail centers at the Annex Brands Convention in Las Vegas on April 21 and 22, 2022.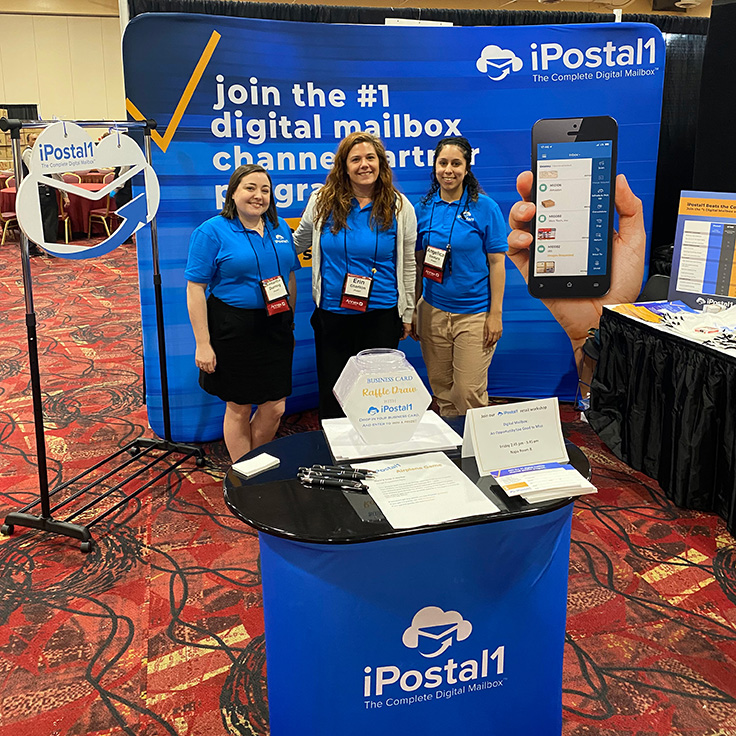 Retail pack and ship stores were deemed essential businesses while COVID was raging. More people than ever relied on them to ship and receive packages, as well as to manage their mail with a digital mailbox service like iPostal1.
As demand for digital mailbox services continues to grow, so does the need for more mail centers to serve these customers. By attending the convention, the team had the opportunity to educate mail center operators on how a digital mailbox works and the benefits it provides to home businesses and frequent travelers. By partnering with iPostal1, mail centers can easily apply their professional expertise to a vastly expanded world of new customers.
A digital mailbox enables mail recipients to receive postal mail and packages at a designated mailing address and then view and manage their mail and packages on an app or from a computer. The mail recipient communicates with a tap or a click what to do with each piece of mail: forward, scan mail content, hold for pickup, discard, or shred. The mail center then performs each task.
iPostal1 offers a turnkey technology platform that enables any mail center to easily offer digital mailbox service. We have assembled the largest network of digital mailbox providers, providing professional training and ongoing refresher sessions to keep mail centers up to date on software improvements and innovation.
Next stop will be the largest trade show for retail pack and ship owners sponsored by RS Associates in Dallas on May 26 - 29. Our bags are packed.
Annex Brands, Inc.
Annex Brands, Inc., based in San Diego, California, is the franchisor for 800 retail and commercial shipping and business service centers located across the U.S., Canada, Mexico, and Japan. All locations are independently owned and operated.
As a franchisor, Annex Brands provides support with site selection, advertising, and systems to run an efficient store. Services offered at retail locations include small parcel packaging and shipping, private mailbox rental, copying and printing, notary public services, and digital fingerprinting.

About iPostal1
iPostal1 is the leader in digital mailbox software as a service and mailroom management software. With over 2,750 virtual mailbox locations, iPostal1 is the largest digital mailbox service provider network worldwide. iPostal1 offers proven, proprietary technology that enables any mail center or business center to offer a mailbox address and mail services to customers who live anywhere.
iPostal1 marketing programs attract customers who sign up online for the virtual address or virtual office of their choice and then manage their postal mail and packages with our smartphone app or via tablet or computer. iPostal1 is the Premium Supplier of digital mailbox services for Retail Shipping Associates, the largest shipping store trade association with 7,000 member mailbox stores.
About USZoom
USZoom, LLC, the parent company to iPostal1 with home offices in Montebello, NY, has been developing digital mailbox software since 2007. USZoom also provides digital mailbox technology to business centers, colleges, and corporations.
To learn more about iPostal1 services, visit ipostal1.com.
iPostal1 Digital Mailbox Plans
Virtual Mailing Address

With Digital Mailbox for me or my family. Starting at $9.99/month.

Get a real physical street address
View and manage mail and packages remotely
Prevent mail and package theft
Protect your privacy

Virtual Business Address

With Digital Mailbox for my business.

Includes everything in Virtual Mailing Address plus:

Get mail in your business name
Upgrade your business image
Optional office building address

Virtual Office

With Digital Mailbox plus phone and fax. Starting at $39.99/month.

Includes everything in Virtual Business Address plus:

Local or toll-free phone and fax
Call forwarding and voicemail
* Plan pricing varies by Standard, Select, Premium, or Prestige mailbox locations.
iPostal1 Digital Mailbox Locations
iPostal1 mailbox locations are professionally-staffed, secure, full-service, digital mailbox locations able to receive your mail and packages and then forward, scan, recycle, shred or let you pick them up. Access your personal digital mailbox online or using our free app.
Choose a location here from our network of over 2,750 mailbox locations or view only office buildings and workspaces or discounted international forwarding locations to save up to 80% on international shipping from the U.S.
List your Shipping Store, Workspace or Mail Center address on iPostal1
Learn More