iPostal1 Exhibits at RS Expo 2022
May 31 2022
For Immediate Release
Montebello, NY - iPostal1 exhibited at RS Expo, the largest conference for retail pack and ship store owners, that took place in Dallas on May 26-29, 2022, after a 2-year break. Over 500 attendees filled the Hyatt Regency Dallas to learn about new trends, products, and services, as well as to network with their colleagues.
The RS Expo was also an opportunity for iPostal1 to meet with its current mail center partners and invite other store owners to join our network of mail center addresses.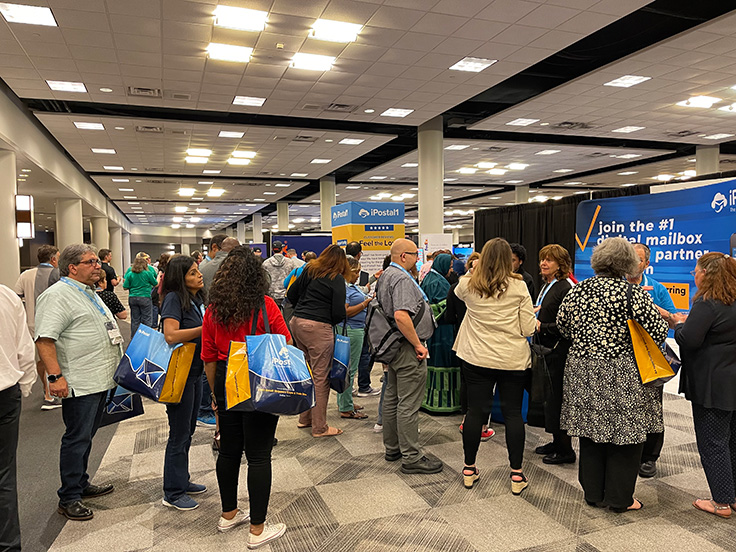 Explosive Growth of Internet Shopping
The focus of the conference was the explosive growth of internet shopping, that has created the need for an expanded infrastructure not only to ship packages, but also to handle returns.
While Amazon has in just a few short years created its own delivery network that rivals UPS, other global players such as Maersk, known for its ocean freight shipping business, is acquiring logistics companies and is looking to be able to ship a package from China and deliver it to a home in Chicago - all within its own network.
Formidable Challenge of the Last Mile
The last mile of delivery of a package is the most challenging and most expensive. Many companies are creating business models to solve this problem not just for packages, but for restaurant meals, groceries, and just about everything else. Uber Eats, Door Dash, Fetch, and GoPuff are just a few of the names that are active in this space.
Most of these companies have been losing money - lots of money - and the pressure is on to find a path to profitability before investors turn off the cash.
Shoppers Want More Convenience
One of the most interesting talks was delivered by Satish Jindel, President of ShipMatrix & SJ Consulting, who suggested that while consumers all want free shipping, they are willing to pay for more convenient and more secure delivery.
Based on his research and data, Jindel claims that carriers such as UPS and FedEx have failed to adjust to consumers' desire to receive packages when it is convenient for them vs. convenient for the carrier. He suggests that retail pack and ship stores, open six days with extended hours, can be part of the solution.
RS Expo Opportunity for iPostal1
For iPostal1, RS Expo is an opportunity to speak with our mail center partners, get feedback and suggestions on how to do things better and ideas for new features and services. Given the accelerating growth of the digital mailbox industry, iPostal1 is working hard to find new mail centers to accommodate the millions of customers who will want digital mailbox service.
About iPostal1
iPostal1 is the leader in digital mailbox software as a service and mailroom management software. With over 2,750 virtual mailbox locations, iPostal1 is the largest digital mailbox service provider network worldwide. iPostal1 offers proven, proprietary technology that enables any mail center or business center to offer a mailbox address and mail services to customers who live anywhere.
iPostal1 marketing programs attract customers who sign up online for the virtual address or virtual office of their choice and then manage their postal mail and packages with our smartphone app or via tablet or computer. iPostal1 is the Premium Supplier of digital mailbox services for Retail Shipping Associates, the largest shipping store trade association with 7,000 member mailbox stores.
About USZoom
USZoom, LLC, the parent company to iPostal1 with home offices in Montebello, NY, has been developing digital mailbox software since 2007. USZoom also provides digital mailbox technology to business centers, colleges, and corporations.
To learn more about iPostal1 services, visit ipostal1.com.
iPostal1 Digital Mailbox Plans
Virtual Mailing Address

With Digital Mailbox for me or my family. Starting at $9.99/month.

Get a real physical street address
View and manage mail and packages remotely
Prevent mail and package theft
Protect your privacy

Virtual Business Address

With Digital Mailbox for my business.

Includes everything in Virtual Mailing Address plus:

Get mail in your business name
Upgrade your business image
Optional office building address

Virtual Office

With Digital Mailbox plus phone and fax. Starting at $39.99/month.

Includes everything in Virtual Business Address plus:

Local or toll-free phone and fax
Call forwarding and voicemail
* Plan pricing varies by Standard, Select, Premium, or Prestige mailbox locations.
iPostal1 Digital Mailbox Locations
iPostal1 mailbox locations are professionally-staffed, secure, full-service, digital mailbox locations able to receive your mail and packages and then forward, scan, recycle, shred or let you pick them up. Access your personal digital mailbox online or using our free app.
Choose a location here from our network of over 2,750 mailbox locations or view only office buildings and workspaces or discounted international forwarding locations to save up to 80% on international shipping from the U.S.
List your Shipping Store, Workspace or Mail Center address on iPostal1
Learn More