AMBC 2022 Meetup in Memphis
Brings Mail Store Owners Together
June 20 2022
For Immediate Release
The Association of Mail and Business Centers held its annual conference in Memphis on June 16-19, 2022. Center owners from across the country gathered to learn about store operations, marketing ideas, new technology, hiring, packing, international shipping, and more.
iPostal1 was at the conference as well. We attend these events to visit with mail center partners whose store address is listed on iPostal1.com, as well as to meet store owners who would like to join our network. iPostal1 sponsored a Friday lunch for all attendees.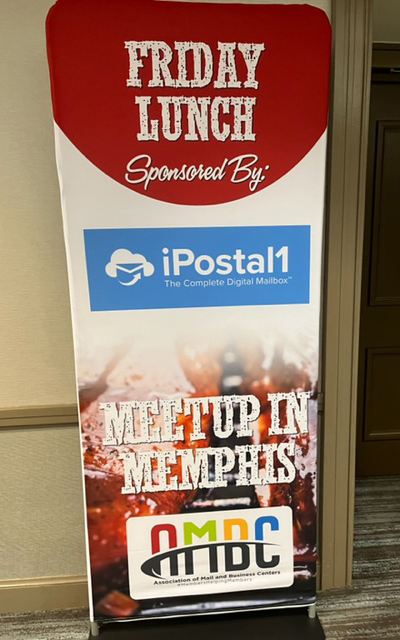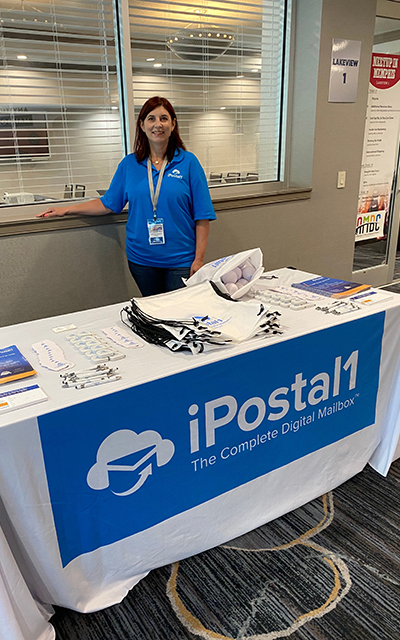 Vital Role Played by Trade Associations
Trade associations like AMBC play a crucial role in the success and growth of the retail pack and ship industry. There are 7,000 independent shipping stores that stand to benefit from the education, training, and vendor discounts that trade associations provide.
While franchise stores like The UPS Store, PostNet, Postal Annex, Pak Mail, Goin' Postal, and Package Hub receive operational support and marketing services from their franchisor company, independent owners must go it alone, unless they join and benefit from trade association programs.
Successfully operating a retail pack and ship takes dedication and hard work, as is true for most businesses. Many are open six days a week, many with extended hours. Operators need to be well-versed in the regulations that govern what can be shipped, especially internationally. They are expert at finding the right carrier, level of service, and price that best meet customer needs.
Digital Mailboxes Increase Store Revenue
It used to be that most of the revenue came from shipping packages and renting old-style physical mailboxes. Then many stores expanded into print services, which now can represent 25% to over 50% of revenue. New equipment enables a shipping store to print anything from business cards to brochures to banner signs, but it does require investment and training.
A store can provide only so many physical mailboxes, as they require lots of wall space and are expensive. But with the addition of digital mailboxes, stores can compress storage and have an almost unlimited number of customers. While most pack and ship stores have space to rent from 100 to 200 physical mailboxes, stores offering iPostal1 digital mailboxes have 500, 1,000, and even over 2,750 customers.
Growing Demand for Digital Mailboxes
Given the convenience of digital mailbox services, which allows the user to view and manage mail from anywhere with an app or online, it is not surprising that demand is growing so fast. With just a click, you can forward mail, request a scan of mail content, schedule a pickup, discard, or shred unwanted mail.
Evolution of Shipping Stores
As the market has shifted and service offerings evolved, so has the identity of these stores. Many are now identified as 'business centers' to reflect the expansion beyond shipping and mail services to offer fingerprinting, passport photo services, and even gift cards. They often identify with specific neighborhoods and become integrated into the fabric of the community, be it a city block in Brooklyn or a college town in upstate New York.
During the COVID pandemic, shipping stores were deemed an 'essential business' as millions of people needed to ship goods to relatives or friends who could not find what they needed locally. Customers valued the convenience and shipping expertise these stores provide, with plenty of shipping boxes and packing material to ensure the contents arrived undamaged.
Mail and Package Theft Solution
With the explosion of internet shopping, shipping stores have become an increasingly important node in the delivery and return network. Online shoppers who worry about porch pirates can get a digital mailbox with iPostal1 at any one of 2,300 real street addresses, where their packages are received and stored securely until they are ready to pick up or forward them.
Given that 20% to 30% of items purchased online are returned, shipping stores typically receive hundreds of drop-off return packages a day, in many cases providing extra services such as packaging and label printing.
Conclusion
Retail pack and ship operators and business center owners make great iPostal1 mail center partners. They are experts at what they do and strive to keep learning and stay current with new services and technology. The AMBC conference is testimony to that.
About iPostal1
iPostal1 is the leader in digital mailbox software as a service and mailroom management software. With over 2,750 virtual mailbox locations, iPostal1 is the largest digital mailbox service provider network worldwide. iPostal1 offers proven, proprietary technology that enables any mail center or business center to offer a mailbox address and mail services to customers who live anywhere.
iPostal1 marketing programs attract customers who sign up online for the virtual address or virtual office of their choice and then manage their postal mail and packages with our smartphone app or via tablet or computer. iPostal1 is the Premium Supplier of digital mailbox services for Retail Shipping Associates, the largest shipping store trade association with 7,000 member mailbox stores.
About USZoom
USZoom, LLC, the parent company to iPostal1 with home offices in Montebello, NY, has been developing digital mailbox software since 2007. USZoom also provides digital mailbox technology to business centers, colleges, and corporations.
To learn more about iPostal1 services, visit ipostal1.com.
iPostal1 Digital Mailbox Plans
Virtual Mailing Address

With Digital Mailbox for me or my family. Starting at $9.99/month.

Get a real physical street address
View and manage mail and packages remotely
Prevent mail and package theft
Protect your privacy

Virtual Business Address

With Digital Mailbox for my business.

Includes everything in Virtual Mailing Address plus:

Get mail in your business name
Upgrade your business image
Optional office building address

Virtual Office

With Digital Mailbox plus phone and fax. Starting at $39.99/month.

Includes everything in Virtual Business Address plus:

Local or toll-free phone and fax
Call forwarding and voicemail
* Plan pricing varies by Standard, Select, Premium, or Prestige mailbox locations.
iPostal1 Digital Mailbox Locations
iPostal1 mailbox locations are professionally-staffed, secure, full-service, digital mailbox locations able to receive your mail and packages and then forward, scan, recycle, shred or let you pick them up. Access your personal digital mailbox online or using our free app.
Choose a location here from our network of over 2,750 mailbox locations or view only office buildings and workspaces or discounted international forwarding locations to save up to 80% on international shipping from the U.S.
List your Shipping Store, Workspace or Mail Center address on iPostal1
Learn More