iPostal1 Welcomes Dan Medina, New Director of Customer Service and Operations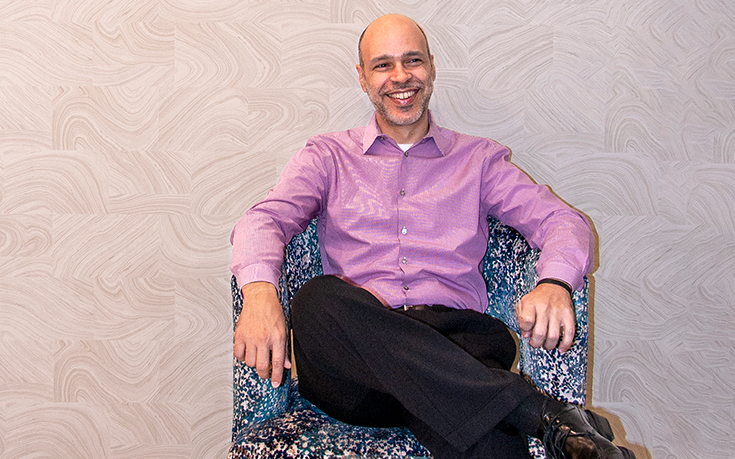 January 3, 2023
For Immediate Release
Montebello, NY - iPostal1 is pleased to announce that Dan Medina has joined our executive team as Director of Customer Service and Operations.
We have experienced extraordinary growth in our customer base and expect it to continue at an even greater pace. To meet this challenge, we have expanded to new office space to serve our increased number of customers in the same high-quality manner that has been the hallmark of our customer service approach since our founding in 2015.
Dan Medina Brings Valuable Expertise to His New Role
Dan's design and scaling up of customer service organizations well qualifies him to support our growth. In particular, in his role of Manager of Global Training, Support and Quality Assurance at Seagate Technology, a leader in the mass computer storage segment, Dan oversaw the design of training curricula for customer service personnel deployed in multiple global facilities.
As Senior Director of Global Operations for Freshly, a prepared-meal delivery service founded in 2012, Dan's five-year tenure was marked by his development of a global 330-person customer support organization that was instrumental in its robust growth and acquisition by Nestlé in 2020.
While with Shutterfly, which markets photography products and image sharing services, Dan oversaw the Quality Assurance function encompassing all calls, emails and chats.
As Operations Manager for Ricoh, a leader in the imaging and digital products and services segment, Dan launched and oversaw the training of a team dedicated to supporting the 400 largest global accounts, as well as 500 aftermarket customers.
iPostal1 Interviews Dan Medina
Whether you're already an iPostal1 customer or just starting to explore the potential benefits of a digital mailbox or virtual office, we thought you'd be interested in learning more about Dan and his plans for continuing to provide the level of service that has been the centerpiece of iPostal1's growth.
What aspects of your background are particularly relevant to iPostal1 at this point in the company's evolution?
Based on our current sales trajectory, we will need to expand our training staff. With this in mind, I believe my experience designing "train the trainer" programs will be a valuable asset. Naturally, we hope to fill these positions with our top-performing team members. Thus, new team members with ambitious career aspirations should appreciate the significant advancement opportunities inherent in iPostal1's growth.
A key factor in iPostal1's success has been the relationships it has established with operators of the mail centers that securely process our customers' mail—currently numbering over 2,750 in the US and abroad.
Having managed collaborative relationships with companies that augmented the internal capabilities of my previous employers, I know how important it is to provide third-party companies with the support they need to fulfill their responsibilities. I intend to closely monitor feedback that our team members receive from mail center personnel.
This information will guide us in designing training curricula tailored to mail center needs, as well as improving communication channels with these partners.
How do you evaluate candidates for customer service positions?
The high satisfaction ratings iPostal1 has received on third-party websites, including Google, Sitejabber and Trustpilot, certainly reflect customers' opinions of the quality and cost-effectiveness of our service. However, they are also a testament to the performance of our customer service staff when responding to inquiries—whether from an existing customer with a problem or a prospective customer who needs further information before deciding whether to become an iPostal1 customer.
I intend to continue the company's approach to recruiting new team members, a cornerstone of which is to hire people who can quickly master information about the various features available with our service and convey that knowledge clearly to customers representing a broad range of cultures and backgrounds. Moreover, no customer should ever feel that it's an imposition to ask a team member to repeat or clarify an explanation.
With this in mind, we have designed our interview process to assess the degree to which a candidate possesses a personality trait that is vital to the performance of a customer service specialist in any industry—namely, an abundance of patience.
What type of training do new customer service personnel undergo?
Naturally, new team members undergo formal training before they have any contact with customers. However, I view training as an ongoing process—rather than a program—because a program is a term more appropriately applied to a one-time event.
The initial training is supplemented by periodic coaching to ensure that all employees—regardless of their tenure with iPostal1—maintain current knowledge of new features available with our service.
Some inquiries may come from people who are considering signing up for iPostal1's service. It might be a seasoned entrepreneur who wants to establish a presence in a desirable new market or the owner of a home-based business. Perhaps it's a digital nomad who wants quick and secure access to her communications—including clients' payments. And it might be the owner of vacation property who wants his mail sent to a location he can conveniently access upon his return home.
The diversity of situations that prompt an inquiry makes it imperative that we train our staff to ask the right questions of a prospective customer so as to recommend which iPostal1 features will best address his or her needs.
Describe your approach to designing an initial training program for new team members.
The most effective program consists of three primary elements:
The first element is the incorporation of active listening, a methodology that has been demonstrated to maximize the quality of communications between two parties, whether in a business or interpersonal context. When applied to the customer service setting, active listening ensures that by the end of the conversation, the customer will feel that his or her information need has been satisfactorily addressed. For example, a key aspect of active listening is for the listener—the team member—to provide feedback to the customer to confirm what must be accomplished for the customer to consider the problem or information need to be successfully addressed.
The second element consists of role-playing exercises that simulate actual scenarios of customer contacts, including situations where the customer expresses frustration or anger about a problem that motivated them to contact us.
In some cases, a team member may not be able to immediately answer a customer's question. So, the third essential ingredient in an effective program entails educating team members on how to enlist assistance from staff in other departments.
Your role encompasses responsibility for Quality Assurance. What does Quality Assurance mean in a customer service environment?
By monitoring customer contacts, whether emanating from a call, email or chat, we can identify inconsistencies and inaccuracies in the information that team members convey to customers. Classifying these contacts by the subject of the problem or information need, as well as ranking them by frequency, provides valuable direction in enhancing our training process.
In addition, if a high volume of contacts pertains to questions about a particular service feature, we might expand the FAQ page content. We would then see if there is a significant reduction in the inquiries pertaining to that feature.
What other initiatives are you implementing to scale up the customer service organization?
We have invested in technologies that have already delivered quantifiable benefits, most notably a reduction in the time to respond to customer contacts, whether from phone calls, emails or chat. Naturally, we will evaluate and deploy new technologies to further compress our response time without undermining the quality of our communications.
iPostal1 already had in place a robust ticketing system—the process of documenting and categorizing the nature of customers' inquiries. We're now developing a system that will provide granular analyses of tickets. As with our call monitoring, this will guide us in upgrading our training curricula and adding information to our FAQ page content.
About iPostal1
iPostal1 is the leader in digital mailbox software as a service and mailroom management software. With over 2,750 virtual mailbox locations, iPostal1 is the largest digital mailbox service provider network worldwide. iPostal1 offers proven, proprietary technology that enables any mail center or business center to offer a mailbox address and mail services to customers who live anywhere.
iPostal1 marketing programs attract customers who sign up online for the virtual address or virtual office of their choice and then manage their postal mail and packages with our smartphone app or via tablet or computer. iPostal1 is the Premium Supplier of digital mailbox services for Retail Shipping Associates, the largest shipping store trade association with 7,000 member mailbox stores.
About USZoom
USZoom, LLC, the parent company to iPostal1 with home offices in Montebello, NY, has been developing digital mailbox software since 2007. USZoom also provides digital mailbox technology to business centers, colleges, and corporations.
To learn more about iPostal1 services, visit ipostal1.com.
iPostal1 Digital Mailbox Plans
Virtual Mailing Address

With Digital Mailbox for me or my family. Starting at $9.99/month.

Get a real physical street address
View and manage mail and packages remotely
Prevent mail and package theft
Protect your privacy

Virtual Business Address

With Digital Mailbox for my business.

Includes everything in Virtual Mailing Address plus:

Get mail in your business name
Upgrade your business image
Optional office building address

Virtual Office

With Digital Mailbox plus phone and fax. Starting at $39.99/month.

Includes everything in Virtual Business Address plus:

Local or toll-free phone and fax
Call forwarding and voicemail
* Plan pricing varies by Standard, Select, Premium, or Prestige mailbox locations.
iPostal1 Digital Mailbox Locations
iPostal1 mailbox locations are professionally-staffed, secure, full-service, digital mailbox locations able to receive your mail and packages and then forward, scan, recycle, shred or let you pick them up. Access your personal digital mailbox online or using our free app.
Choose a location here from our network of over 2,750 mailbox locations or view only office buildings and workspaces or discounted international forwarding locations to save up to 80% on international shipping from the U.S.
List your Shipping Store, Workspace or Mail Center address on iPostal1
Learn More